As nice as fabric paint is for stenciling shirts, it will always eventually fade/flake off. If you're looking for a more permanent design or if you're just looking for a different look for your designs, then bleaching might be the way to go. I've made
several
shirts
using
this method
before
, and I now reveal all the secrets involved therein.
Here is everything needed:
-T-shirt (Preferably 100% cotton, but a 50/50 blend will do)
-Bleach
-Masking Tape
-Newspaper
-Empty Spray Bottle
-Spray Adhesive
-Xacto Knife
-Ventilation Mask (optional)
-Latex gloves (optional)
-Stencil
STEP ONE: Get your stencil image, obviously. I picked a random Boba Fett image I found on google images. Bring your image into photoshop and drop the opacity of the image down to 20% or so before printing to save yourself some ink cartridges.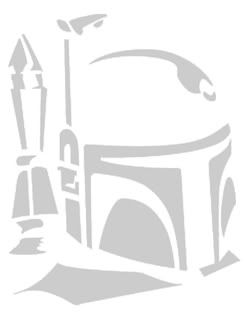 STEP TWO: Print out your stencil. You can go two ways with this: Either print the image directly out onto some heavy cardstock, or go the cheaper way: Print it out on normal paper, then tape that image onto a manila folder, then cut.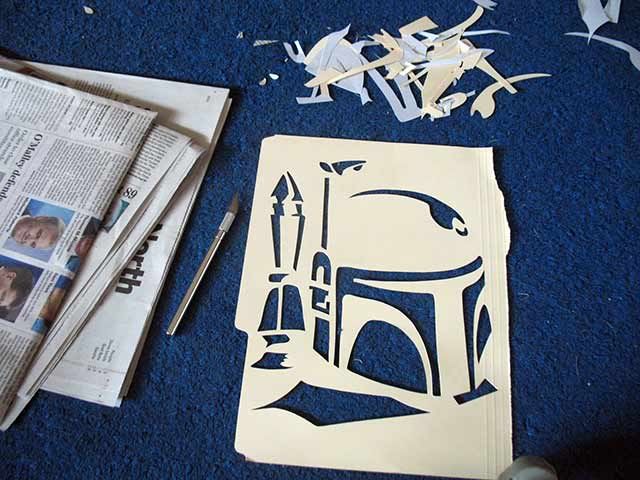 STEP THREE: Flip your stencil upside down. Hold your spray adhesive about 6-10 inches away and spray on a full, even coat. Let this sit for about 5 minutes or so to get tacky. (Mask and/or outdoors recommended)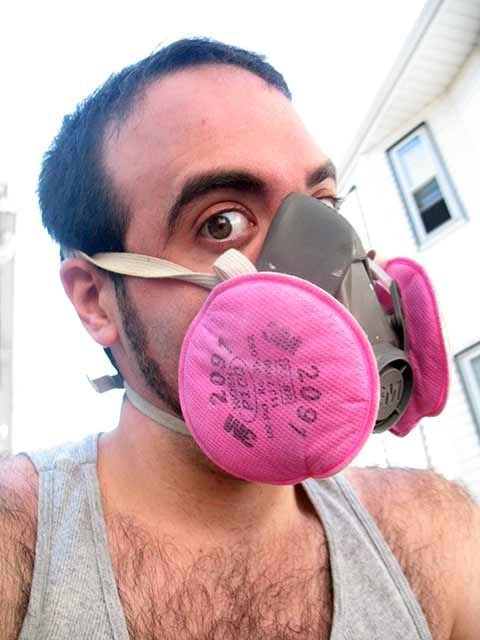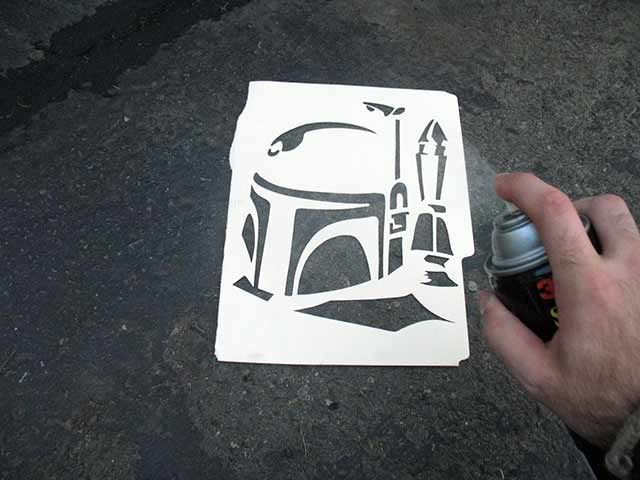 STEP FOUR: Lay your shirt out flat, and press your stencil down. Be sure and pat it down well, especially for stencils with a lot of smaller details.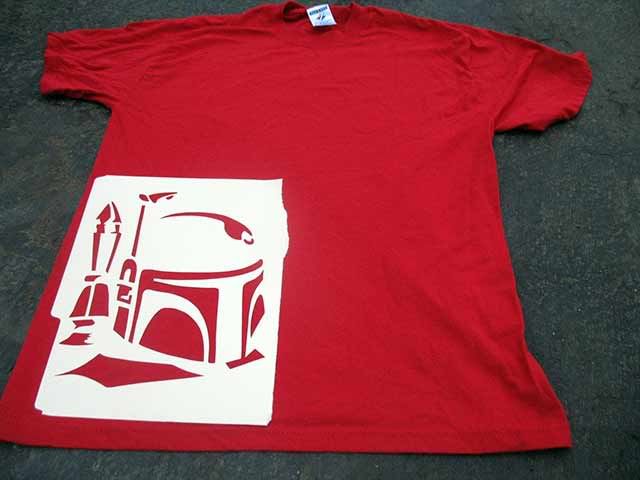 STEP FIVE: Stuff several layers of newspaper under your stencil inside to shirt, to prevent leakage through to the back (though this can be a neat effect to experiment with). Fold up all other exposed shirt parts behind.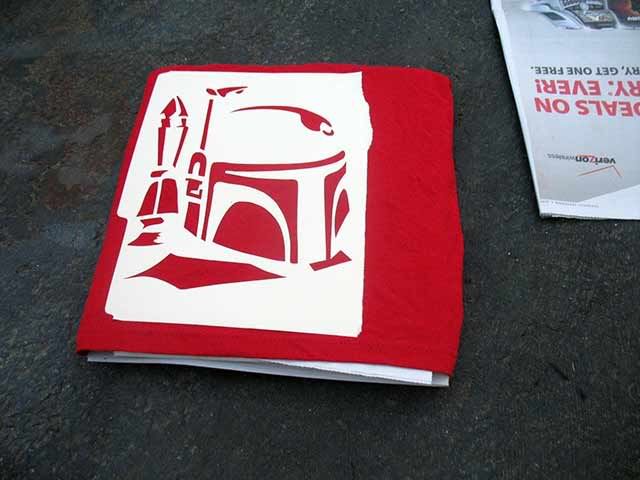 STEP SIX: Tape newspaper over any remaining exposed fabric. Seal this well with masking tape.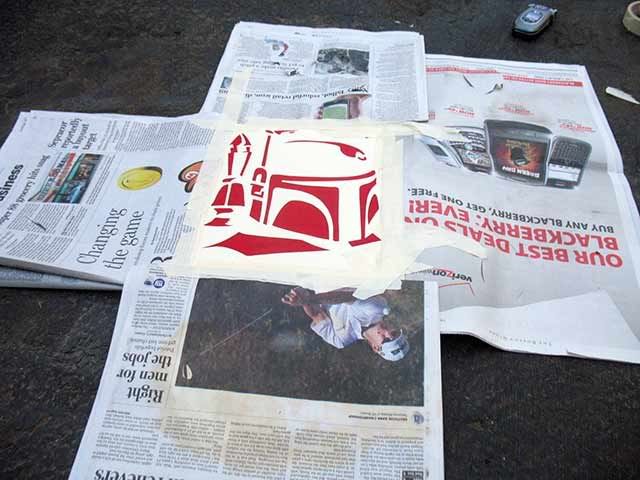 STEP SEVEN: Load up your spray bottle with some bleach. Get on the gloves if you are so inclined.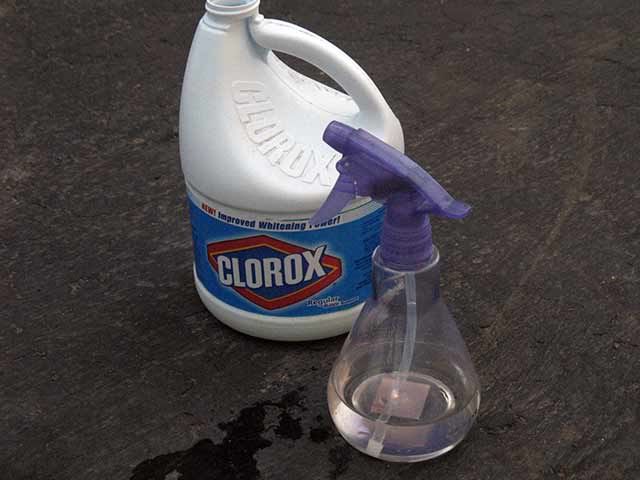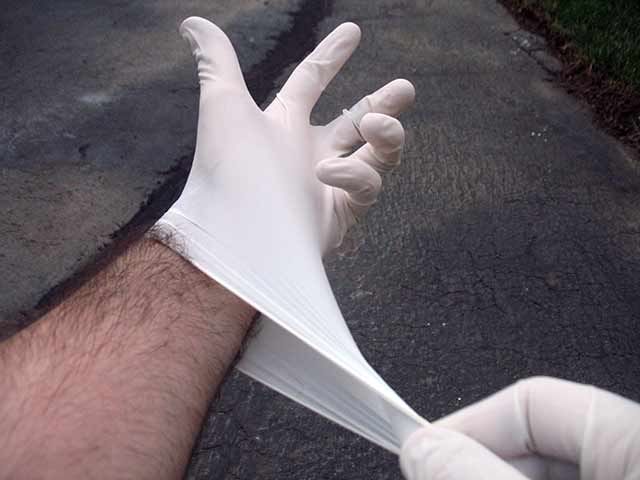 STEP EIGHT: Here's the meat of it. Give your shirt a few good sprays, then dab quickly and softly. Repeat, allowing a decent amount of drying/bleaching time in between each spray volley. I usually go for about 4-5 coats. The goal here is to get the bleach onto the shirt, but to also be getting it off the stencil template. Manila folders don't hold up too well after being soaked. Once the paper gets too wet, the outlines will start to bleed. Keep in mind that the bleach will still be working on the shirt, even if it's not sopping wet, so err on the side of dryness.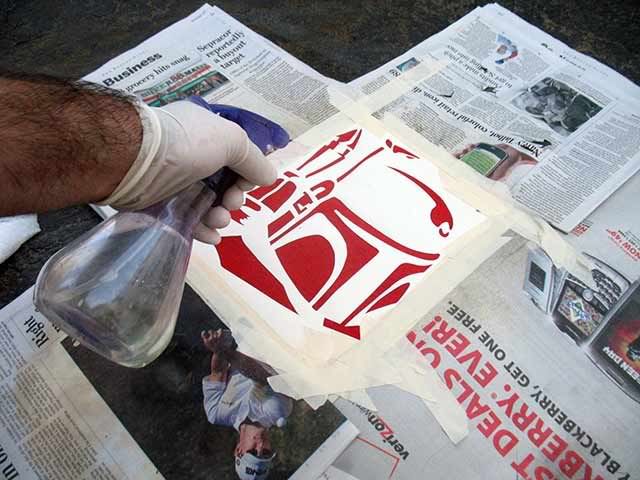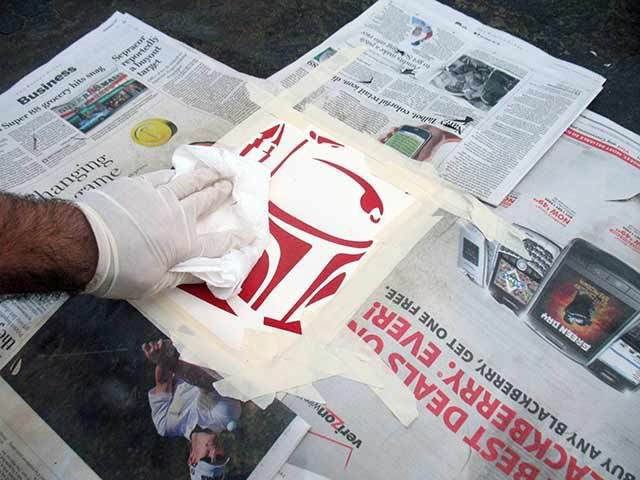 STEP NINE: Peel off all the paper. Initially (especially during spraying), the bleach will appear to not do much. It will eat into the shirt's color over time though, so have patience, young padawan. The images below have a time difference of about 10 minutes. The longer it sits, the more it eats in. This can be exploited for lighter shades of stenciling for shading.
FINISH: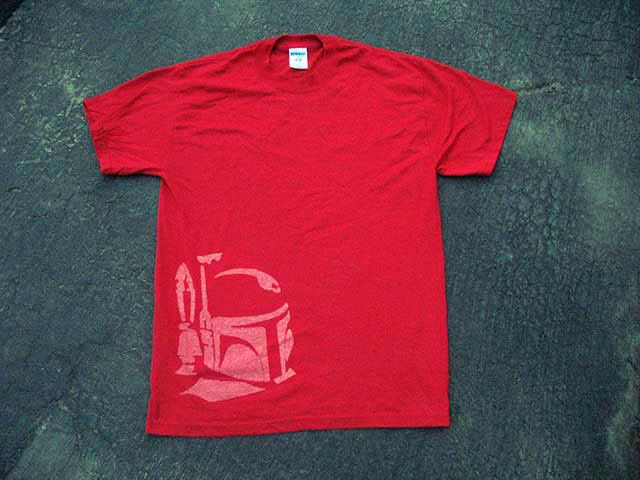 Your shirt is done! This process takes a lot of trial and error with all the different factors (shirt type/color, bleach drying time, etc), so keep at it to get your best results.
SEVERAL WORDS OF CAUTION:
Don't keep bleach in a small sealed container, or it will burst. Always pour the remaining bleach from your spray bottle back into the main container.
I'm in the process of finding a better template material, as the folders are not always reliable (you can see some of the thinner spaces on Boba get a bit scrunched on this one) I usually turn on the shower and soak the shirt a bit and get the bleach out before I toss it in the wash. Then it's a nice permanent design.